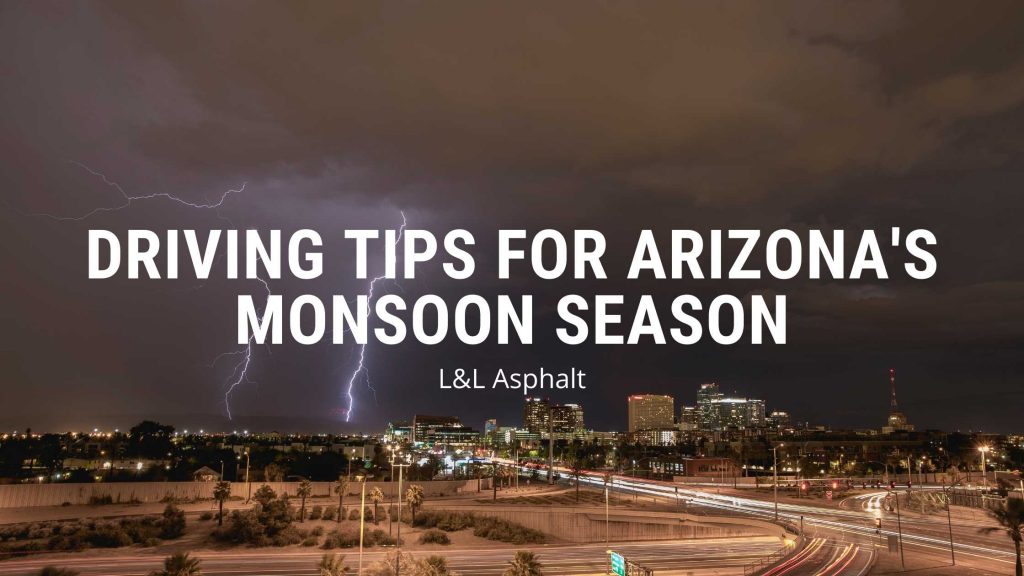 It's monsoon season in Arizona. From June to September, dust storms, thunderstorms, and flash floods visit the Valley regularly. These storms can limit visibility and flood streets within minutes. These severe weather conditions can contribute to driving conditions, along with ongoing road construction by an asphalt paving company, making it critically important to proceed with caution and follow some essential safety tips such as those listed here.
What is Monsoon Season?
According to the National Weather Service, Arizona's monsoon season runs from June 15 to September 30, bringing essential precipitation to the area when winds shift and bring moisture to the Southwestern United States. The result? Increased humidity, heavy rain, scattered thunderstorms, high winds, dust storms, extreme heat, and other severe weather. Storms, while typically brief, can create hazardous driving situations under specific conditions.
Safe Driving Tips for Monsoon Season
Plan Ahead
Ideally, you should always check current weather and road conditions before beginning your commute, especially during monsoon season. You can find the forecast, along with any flash flood or severe weather advisories, using the National Weather Service's website. In addition, road conditions, including areas where an asphalt paving company may be working, can be found by either dialing 511 or visiting az511.com.
Inspect Your Vehicle
Make sure your vehicle is in optimal driving condition. That includes replacing worn windshield wipers, checking tire pressure and tread, rotating and balancing tires, and checking and topping off fluids. Also, test your headlights, brake lights, and turn signals to ensure they are working. Replace any bulbs or fuses that may be burnt out. You may also want to consider, particularly if you don't have one already, a roadside assistance plan.
Don't Attempt to Cross Flooded Areas
According to the National Weather Service, between 12 and 18 inches of water can move a vehicle, small and large, respectively. In addition, flooded areas – highways, parking lots, streets, etc. – can occur in moments during heavy rainfall. Unfortunately, there is no way to tell the road's condition under these circumstances, so it is best to turn around and find an alternate route.
Pull Off the Road in Severe Dust Storms
Should a storm limit visibility during your commute, the Arizona Department of Transportation encourages waiting it out by pulling off the road as far to the right as possible. They also say to "turn off your lights, set the parking brake, and take your foot off the brake pedal" (ADOT). This advice applies whether heavy rain or dust limits your visibility and is intended to help keep you and other motorists safe.
Store an Emergency Roadside Kit in the Trunk
No vehicle should be without an emergency roadside kit. These should include nonperishable food, water bottles, a tool set, jumper cables, reflective triangles, reflective vest, first aid kit, and flashlight with extra batteries. A properly inflated spare tire, wheel wrench, and jack are equally essential, says the National Safety Council. The council also recommends checking and restocking, as needed, the kit every six months.
Remember to Change Lanes for Stationary Vehicles
Arizona's "Move Over" law requires motorists to yield the right-of-way by moving into the adjacent lane when passing any stationary vehicle with flashing lights. The law recognizes that this may not always be practicable, either because it's impossible or unsafe, requiring motorists to reduce vehicle speed to ensure everyone's safety. The law applies to all vehicles with flashing lights, whether emergency personnel or a stalled car.
Arizona's Leading Asphalt Paving Company
L&L Asphalt is a woman-owned and operated asphalt paving company renowned for providing asphalt installation, maintenance, and repair for commercial and municipal clients throughout the greater Phoenix metropolitan area. We specialize in asphalt paving for new or replacement road or parking lot construction, overlays, resurfacing, street widening, and more. Please contact us at (623) 434-1200 to learn more.
Editor's Note: This post was originally published in July 2018 and has been updated for accuracy and comprehensiveness.
Resources:
"ARS §28-775- E-1-2." Arizona State Legislature.
"During a Flood." National Weather Service.
"Monsoons." Arizona Department of Transportation.
"Monsoons: Monsoon Safety Driving Tips." Arizona Department of Transportation.
"Monsoon Season." National Park Service.
"Northern Arizona Monsoon Season: What is the Monsoon?" National Weather Service.
"What Should You Keep in the Car?" National Safety Council.