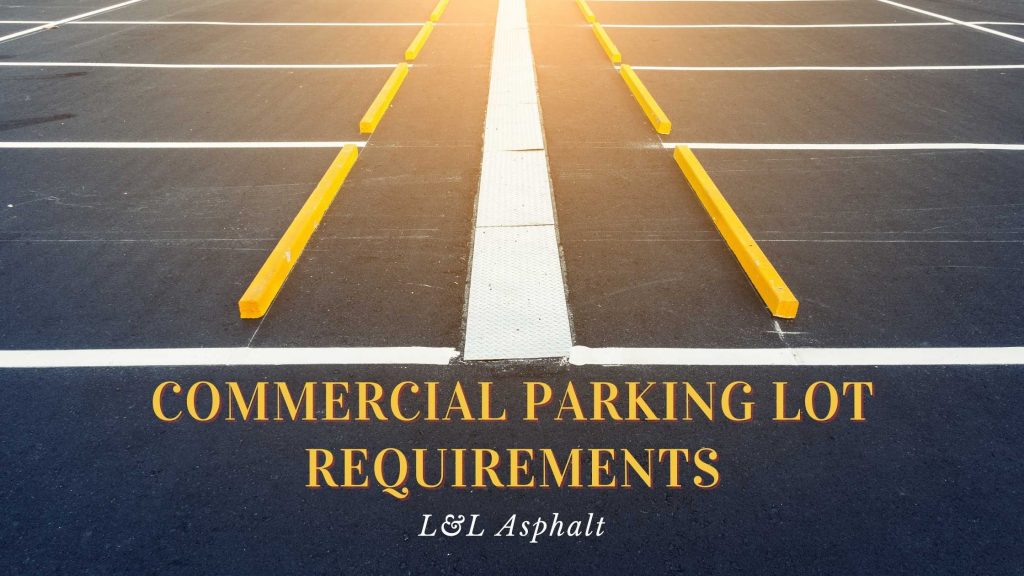 A well-designed and maintained commercial parking lot, with clearly marked spaces, provides many benefits. These include improving your curb appeal, subsequently creating an excellent first impression, and potentially adding property value. However, the most critical advantage to having an asphalt paving company install and maintain your commercial parking lot is compliance with local, state, and federal regulations.
The City of Phoenix's requirements vary depending on whether the surface parking lot or garage is for (1) commercial retail, assembly uses, and restaurant establishments or (2) office, industrial, and multi-family residential developments. The city also permits tandem parking for multi-family developments. Other cities in the Valley have similar requirements, including submitting a detailed plan to the local planning and development department, outlining pertinent information about the lot's design and spaces.
Dimensions
The City of Phoenix mandates that all commercial retail, assembly uses, and restaurant establishments have sufficient single-striped parking spaces measuring nine and one-half feet by eighteen feet. In addition, double striped parking lots should ensure that 50% of the areas are nine and one-half feet by eighteen feet, while the other half of the spaces must be a minimum of nine feet wide. All parking spaces must be eight and one-half feet by eighteen feet in office, industrial, and multi-family residential developments. These and other requirements may vary depending on the industry and building.
Accessible Parking Spaces
In addition to minimum dimensions, commercial parking lots must include an adequate number of accessible parking spaces, as required by the Americans with Disabilities Act (ADA). The Act specifies that "accessible parking spaces for cars have at least a 60-inch-wide access aisle located adjacent to the designated parking space. These parking spaces are identified with a sign and located on level ground." The minimum number of accessible parking spaces required by the ADA varies depending on the total number of parking spaces provided per parking lot. For example, if the lot offers one to 25 spots, there must be one accessible parking space. A local asphalt paving company can help ensure ADA compliance when installing your new commercial parking lot.
Professionally Installed Asphalt Paving
The City of Phoenix requires that all commercial parking lots consist of a "dust-free" surface. Approved materials include asphalt and concrete. In addition to providing a dust-free surface, asphalt offers many advantages over concrete, including a smooth surface that can be driven on shortly after installation. Additional benefits include durability, safety, and sustainability. Asphalt will also provide motorists with a quieter ride.
L&L Asphalt has years of experience installing new materials, and correcting pavement issues throughout Arizona. Our paving specialists can answer all your questions about asphalt paving to help you make an informed decision.
To schedule an appointment with an asphalt paving company, please contact us at (623) 434-1200.
A woman-owned and operated asphalt paving company, L&L Asphalt is awarded hundreds of pavement projects of varying size and complexity for local businesses and municipalities, leading us to believe we are the premier candidate to manage your asphalt pavement.
Resources:
"ADA Design Guide: Restriping Parking Lots." U.S. Department of Justice, Civil Rights Division, Disability Rights Section.
"Chapter 7: Development Standards of General Applicability. Section 702 – Off-Street Parking and Loading." City of Phoenix Zoning Ordinance.
"Parking Requirements Guideline Packet." City of Phoenix Planning & Development Department.