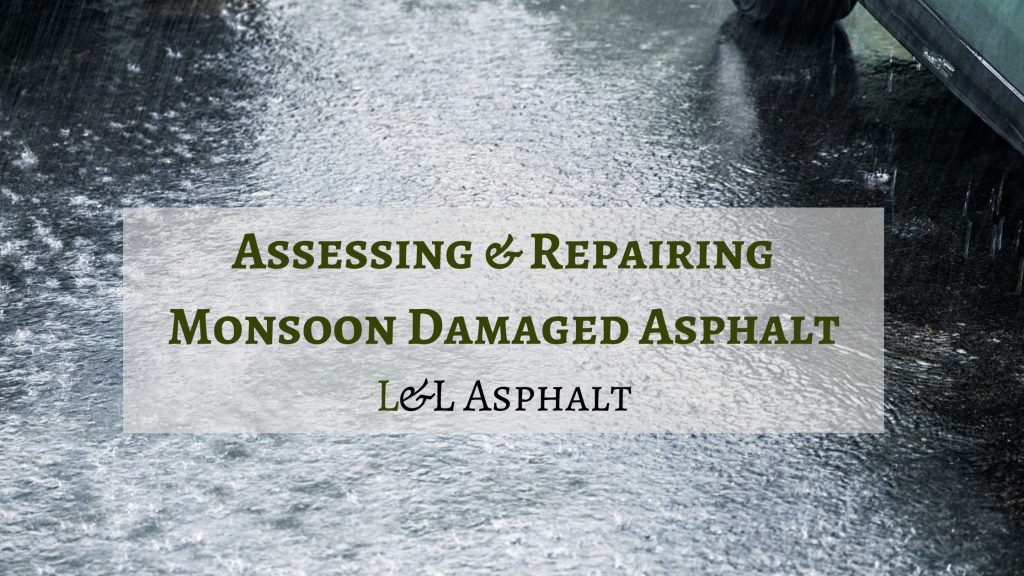 Another round of storms on August 18 added 0.08 inches of rainfall to Phoenix Sky Harbor, bringing the season's total to 3.37 inches, making it one of the wettest in recent years (@NWS Phoenix).
It has undoubtedly been one of the most active monsoons, and there's still more than a month to go until the monsoon season's official end on Thursday, September 30. However, Phoenix's National Weather Service Forecast Office is forecasting a one-week respite before "above-average" rain is expected.
While recent storms have positively impacted the state's drought conditions, heavy rainfall and damaging winds have caused significant structural and flood damage, with some areas seeing more damage than others.
During the Storm
The Asphalt Institute does not advise starting new asphalt pavement or parking lot construction when it's raining. These conditions may impact proper compaction, prevent adequate bonding, or cause stripping. The latter refers to a separation between the asphalt binder and aggregate. It is a common concern when puddles are present.
Should work have already started, the Asphalt Institute adds that it can continue without heavy rainfall and standing water, assuming the asphalt paving contractor can still obtain proper compaction. "Insufficient compaction of the asphalt pavement courses may accelerate the onset of pavement distresses of various types" (The Asphalt Institute).
When a Flash Flood Watch is in effect, it means that conditions are favorable for flash flooding over large or multiple areas. In contrast, a Flash Flood Warning is issued for rapidly moving water that is either likely to or already occurring, notifying people to move to higher ground and never attempt to drive through flooded roadways.
According to the National Weather Service, a mere one to two inches of swiftly moving water is enough to float most vehicles, even SUVs. In addition, the agency states that it is often easy to misjudge the water's depth or velocity, and there's no way to tell the road's condition.
After the Storm
With all the rain the Valley has received recently, now is an appropriate time to assess how your asphalt faired, as it's common for it to become cracked. More so, should the pavement have already been in disrepair, especially since water can seep into cracks and ruts, there is the potential for more substantial damage.
One of the best methods for extending the pavement's longevity is to have an asphalt paving contractor routinely inspect and maintain the surface. An asphalt paving contractor can identify pavement decay, distress, or damage and provide their expert recommendation on whether it can be repaired or replaced.
Assuming the surface has not deteriorated to the extent replacement would be more cost-effective, an alternative option is to have the contractor install an overlay for minor monsoon-related damages. The contractor will thoroughly inspect the pavement, determine what repairs are necessary, and then install a new asphalt layer.
L&L Asphalt is a woman-owned and operated asphalt paving company renowned for providing asphalt pavement installation, maintenance, and repair for commercial and municipal clients throughout the greater Phoenix metropolitan area. We specialize in asphalt paving for new or replacement road or parking lot construction, overlays, resurfacing, street widening, and more. To learn more about our services or schedule an appointment, call us at (623) 434-1200.
Resources:
"Asphalt Maintenance and Rehabilitation." The Asphalt Institute.
"Glossary of Terms: Compaction." The Asphalt Institute.
@NWS Phoenix. "Phoenix Sky Harbor added 0.08″ yesterday…." Twitter, August 19, 2021.
@NWS Phoenix. "' After the relative "break" we are expecting….'" Twitter, August 19, 2021.
@NWS Phoenix. "While this year's Monsoon season has caused a lot of flooding problems and wind damage…." Twitter, August 19, 2021.
"Miller, D., Galka, M., & Nielsen S. "Severe damage is left behind throughout Arizona as monsoons rip through." Fox 10 Phoenix, August 18, 2021.
"Monsoon Safety." The National Weather Service.