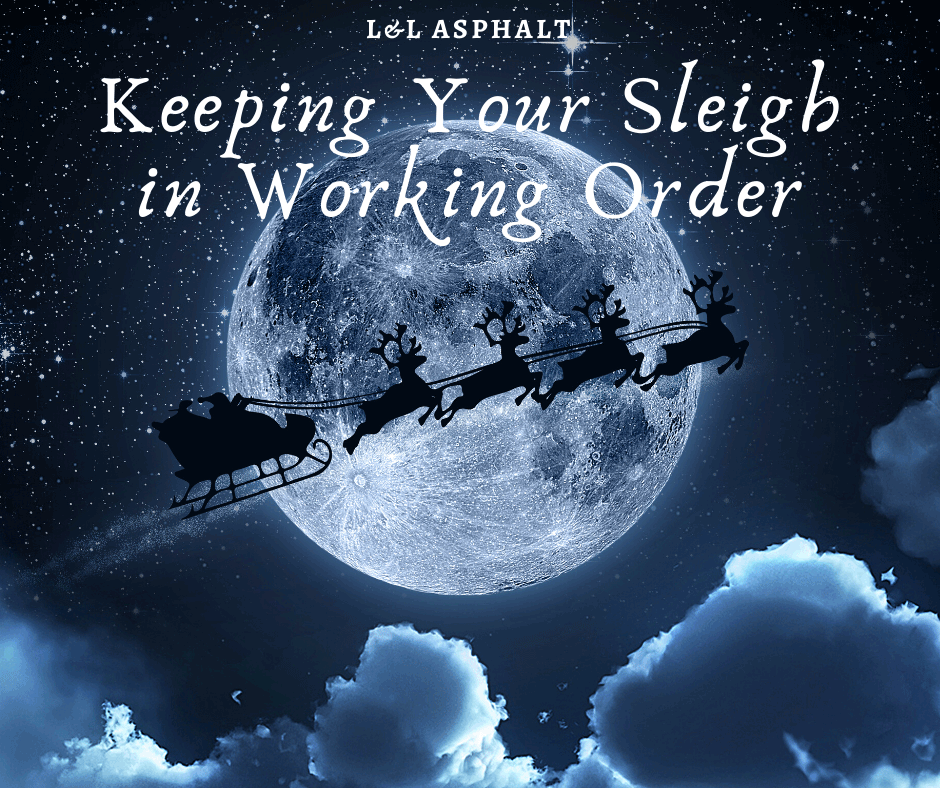 With valley residents hitting the asphalt to celebrate the holiday festivities in a couple of weeks, what are some of the best tips for you before loading up your sleigh?
Last year L & L Asphalt put out a few safety tips just before the holidays for those families hitting the road. This year, you may appreciate a few more right before more than 49.3 million motorists hit the open road, according to AAA.
Oldies but Goodies
Before you embark out into the congested highways, potential winter storms, and drivers making your travels more challenging, remember to utilize these helpful tips to stay safe. Ditch those cloudy headlights because they produce about 20 percent of the light than brand new ones give off.
Subpar lights create dangerous driving conditions for you and your family. According to AAA, 50 percent of crashes happen at night, and if you're driving with inadequate headlights, you're increasing that risk. Make sure you get a good night's sleep the night before you head out on the road.
No matter the length of your trip, if you're tired while driving, you slow your reaction time, spatial awareness falls, and judgment is impaired. You can avoid these issues by ensuring you get seven to nine hours of sleep the night before. For longer trips, a routine maintenance checklist can help prevent breakdowns.
You'll want to check your vehicle's fluid levels, tire pressure, and tread as well. Regular oil changes and tire rotations can also help decrease the amount of wear and tear on your vehicle. If you have any questions on how often to perform maintenance on your car, check your owner's manual. Before an emergency happens, make sure to keep an emergency kit in your trunk.
You can either buy a pre-made kit or create one yourself. No matter what you decide to go with, making sure it contains an ice scraper, jumper cables, duct tape, car jack, cellphone charger, and a first aid kit. You'll also want to make sure there are enough warm clothes, non-perishable foods, bottled water, and blankets for everyone traveling with you.
Additional Holiday Travel Tips
Two excellent tips that AARP suggests is to try and avoid traveling on peak days and to ensure you leave plenty of extra time. If you head out of town for Thanksgiving, avoid leaving the day before the festivities or the Sunday after. Those two days are the heaviest travel days and will give you the biggest headache.
No matter your destination, try and give yourself a little peace of mind by giving yourself extra travel time. You never know if you're going to hit traffic that's crawling at a snail's pace or if you'll have vehicle trouble. It also gives you time to run into a store for those last-minute grocery items you forgot.
Being prepared has its benefits when you hit the road because you can handle whatever comes up. Make sure that you have a backup plan in case of any travel issues, like needing an alternate driving route because of bad traffic.
If you're traveling with kids, make sure to bring things like snacks, books, magazines, and anything else you need to pass the time. It's only a matter of time before they get hungry or bored while in the car, so think ahead. Even if you don't use it on this trip, at least you have provisions for future trips.
Wishing You Safe Holidays
L&L would like to wish you safe holiday travels. A woman-owned asphalt and repair services company, L&L Asphalt Paving has been awarded many contracts by general contractors and municipalities, even ADOT.
Our services include dust abatement management programs, permanent replacement, street widening, overlays, repair, and more. Contact us today at (623) 434-1200 for more information on these and other services.