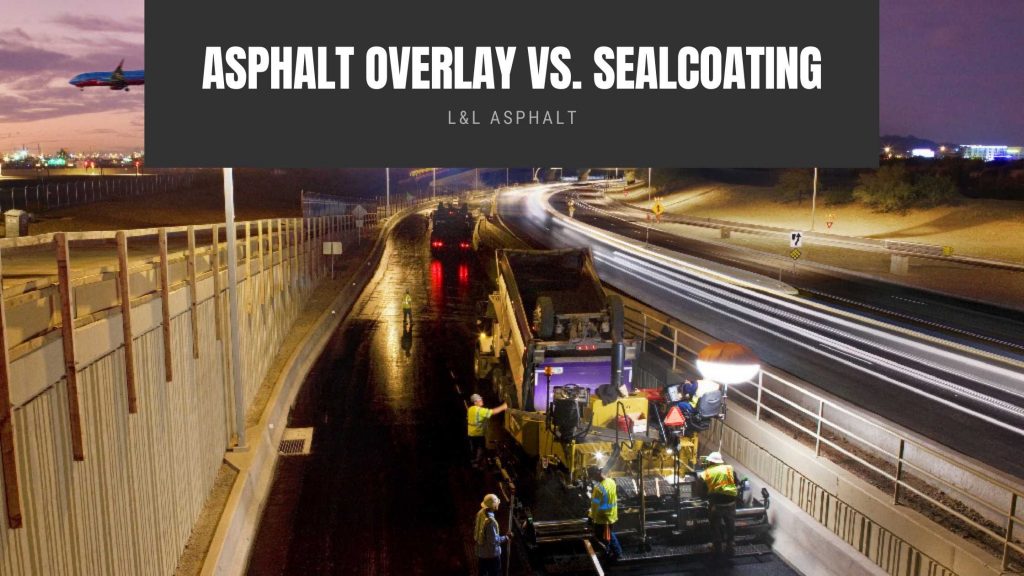 An asphalt paving company, such as L&L Asphalt, with asphalt overlay and sealcoating experience can inspect the surface and provide you with expert opinions. The information they provide is designed to help you make an informed decision about maintaining your roads, driveways, or parking lots using one of the following two methods.
Asphalt Overlay
An asphalt overlay is an excellent option for preserving pavement, assuming the surface has not deteriorated to the extent that would require more extensive repairs or possibly even replacement. Depending on the pavement's condition, repairing it may be advised before an asphalt paving company can apply the overlay. This technique is done by spreading a rubberized asphalt overlay onto the road, driveway, or parking lot to fix minor issues.
Please view recent projects utilizing this technique.
Asphalt Sealcoat
Sealcoating is another option that helps extend the longevity of asphalt roads, driveways, and parking lots. The process involves applying a protective coating of specially formulated liquids and a thin layer of aggregates over existing surfaces in need of repair.
Heavy-duty equipment is then used to roll the sealer and aggregate mixture over the surface's length and width. Ultimately, this process fills in small cracks and provides a glossy finish, improving curb appeal.
Additional benefits include:
Protecting against damaging UV rays, and
Promoting a smoother and quieter ride, and
Preventing more costly issues due to water penetrating the surface.
Sealcoating should be part of an ongoing maintenance schedule.
Schedule an Appointment Today
L&L Asphalt is a woman-owned and operated asphalt paving company that services businesses and municipalities throughout the greater Phoenix metropolitan area.
As an asphalt contractor, L&L Asphalt performs hundreds of projects – so many that there is no room to include them all here. Because we contract numerous projects of varying size and complexity, we feel we are the premier candidate to manage any asphalt-related project.
In addition to installing new and replacement asphalt, we offer dust abatement management programs, sealcoating, crack repair, and street widening services.
Please contact us today at (623) 434-1200 to schedule an appointment and see for yourself why we are one of Arizona's leading asphalt contractors.
Resources:
"Best Practices for Asphalt Overlays and Thin Lifts." AphaltPro Magazine.